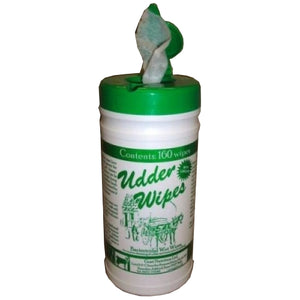 Udder Wipes - 160 sheets
For the routine cleansing and disinfection of the udder and teats prior to milking. They also have many other uses around the house, smallholding or farm, including cleaning of surfaces and mopping up after 'accidents'!
Simple and hygienic to use, these medicated wipes contain high levels of 2 powerful bactericides - cetrimide and chlorhexidine - to help prevent the transfer of bacteria, especially via the milker's hands. They are unperfumed and contain low levels of alcohol to assist in cleansing the skin without causing excess cooling. There is also lanolin and other emollients included in the formulation to ensure that the udder and teats are maintained in excellent condition with additional protection against soreness and chapping.
Each canister contains 160 full-sized wipes, with each sheet measuring 200 x 220mm (7.9 x 8.6 inches). The canisters are provided with a re-sealable overcap to maintain freshness and keep wipes moist and clean.
We have manufactured these Dairy Wipes here in Kent for well over 25 years and they have a proven track record that is second to none!