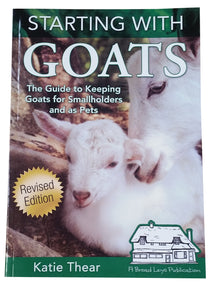 Starting With Goats - Book by Katie Thear
Indispensable guide to keeping goats; for both Smallholders and as pets - by Katie Thear
The guide to goats and goatkeeping from highly experienced goatkeeper and smallholder Katie Thear. Well illustrated, with useful and practical information for beginners and as a reference work for experienced goatkeepers.
Choose the right breed for you - includes comprehensive list of breeds.
How to acquire your goat - what to look for.
Housing, pasture and feeding advice.
Regulations and keeping your goats healthy.
Milking and making cheeses, butter, yogurt and ice cream.
Breeding and showing goats.