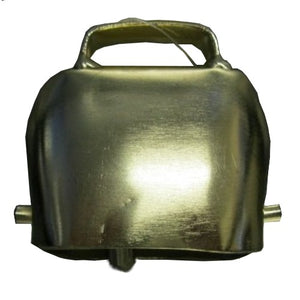 Goat Bell
Straight Goat Bells, manufactured with a beautiful 'brushed brass' finish. They have a solid tongue and carry a fixing 'handle' so that they can be fitted to collars etc..
These bells have the classic 'cow-bell' sound - that will delight Heidi fans everywhere! Each one has a distinctive ring, so any herd of animals carrying these bells will be accompanied by a beautiful musical tinkling sound reminiscent of an alpine meadow, or a Mediterranean hillside....
The small bells are 65mm (2.5 in.) diameter at the widest point, 38mm (1.5 in.) deep and 70mm (2.75 in.) tall to the top of the handle. They weigh 115g (4 ozs) each and are suitable for goats, sheep and other farm stock and are also suitable for household pets such as large dogs etc.