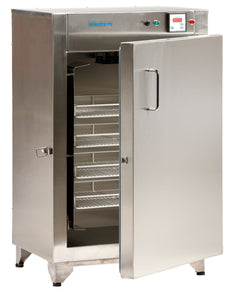 Elecrem Y140 Yogurt Maker
Now proudly supplying Elecrem products! Elecrem have been manufacturing milk processing equipment for over 70 years and are widely regarded as the best in the market.
This Elecrem Y140 Yogurt Maker is capable of incubating up to 140 standard sized yogurt pots per batch. Perfect for making large batches of yogurt, time after time!
230v single-phase power supply (110v available upon request), all machines are CE approved and have a 1 year guarantee.
The Elecrem Y140 model has 4 removable stainless steel racks and is capable of incubating up to a temperature of 50°C. The dimensions are 600mm x 520mm x 870mm and it weighs 90Kg.
Other models of Elecrem yogurt makers are available, as well as cream separators, butter makers and a comprehensive range of spare parts. Please allow between 7 to 10 days for delivery.