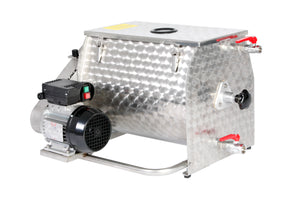 Elecrem Elba 50 Butter Maker
Now proudly supplying Elecrem products! Elecrem have been manufacturing milk processing equipment for over 70 years and are widely regarded as the best in the market.
This Elba 50 butter maker can be used with maximum quantity of 19kg of cream at a time and a minimum quantity of 7kg: 19kg of cream will produce around 9.5kg of butter. It is a equipped with a 41L capacity volume tank.
230v single-phase power supply (110v available upon request), all machines are CE approved and have a 1 year guarantee.
The Elba 50 model has 6 paddles for churning the cream and can be easily used on either the floor or suitable work surface. We also supply a butter maker that includes a kneadIing facility within the same machine - see Elba 30M, Elba 50M & Elba 80M for details of this. Please note that this model will only knead the butter manually.
The Elba 50 butter maker is supplied with a maintenance kit and full instructions as to the use, cleaning, re-assembly and upkeep of the machine.
Other models of Elecrem butter makers are available, as well as cream separators, yogurt incubators and a comprehensive range of spare parts. Please allow between 7 to 10 days for delivery.